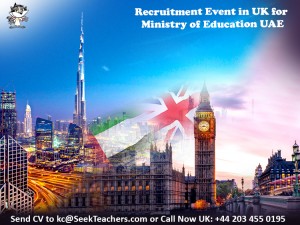 SeekTeachers is proud to be one of the founding agencies to partner with the Ministry of Education in the United Arab Emirates to recruit qualified and experienced educators for the WORLD's LARGEST EDUCATION REFORM project.
We are pleased to announce that the Ministry of Education, UAE will be holding Face to Face Interviews in the United Kingdom on the following locations:
London – 2nd & 3rd August 2019
Manchester  – 4th & 5th August 2019
The Ministry of Education UAE will be focusing to interview for the following roles:
English Teacher – Primary & Secondary
General Primary School Teachers – Maths & Science
Fresh Graduates in Math, Science and English
Note: All non-native English candidates need to produce an IELTS of score 7(Academic)/7.5(General) before the interview.
Having placed hundreds of teachers in this growing project, why not apply and see if you are eligible to make a difference to students in the UAE.
Apply Here or Call Now on +44 203 455 0195 to get in touch with our consultants!