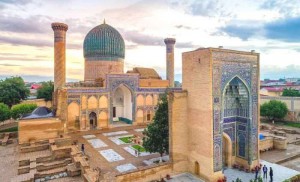 SeekTeachers is proud to partner with the Presidential Schools located in Uzbekistan, Central Asia. PSU is an educational institution that runs a top-performing school and follows the British Cambridge curriculum. The schools provide a diverse, invigorating environment for students to nurture and grow into young adults with full support given until moving to university. The students are encouraged to succeed in their academic and personal life to build their education and stay interested in their pursuits and hobbies to prepare them for their future careers.
The school premises offer wonderful classrooms, fully equipped with modern technology – Science and IT labs, library, Art rooms, music rooms, a multifunctional gym, an indoor swimming pool, canteen as well as green field areas for all kinds of activities. Also, it provides efficient bus service and auditorium as well as much more!
Our client is a specialised public educational institution whose activities are aimed at identifying and educating gifted children to train highly qualified specialists. The schools use a STEAM approach to learning and an IGCSE curriculum.
Living in Uzbekistan
Uzbekistan is known for its Islamic architecture, hospitality, food, and kind and welcoming people. It is a very modern country mixed with traditional lands and culture. Many people enjoy going to the bazaar, trying new food, and being foreigner friendly. Uzbekistan has four seasons hot summer, pleasant spring and autumn, and the coldest months in winter. Many accommodations and indoor buildings have air conditioning and heaters for all seasons to make a comfortable stay for everyone all year round.
Positions available:
- Maths Teacher
- Physics Teacher
- Biology Teacher
- Chemistry Teacher
- Science Teacher
- Global Perspective Teacher
- ICT/Computer Science Teacher
- Business & Economics Teacher 
Requirements to apply: 
**Have a bachelor's degree in a relevant subject
**Have a valid teaching license
**Have a minimum of 3 years of experience teaching the relevant subject
**Native or near-native English speaker
Our client offers the following benefits:
**Competitive monthly salary
**Annual flights
**Accommodation is provided
**Health insurance
**Work visa
**Relocation allowance
**Training and professional development
**One-year contract