Are you always busy planning for lessons or chasing students? Then this is the right place for you!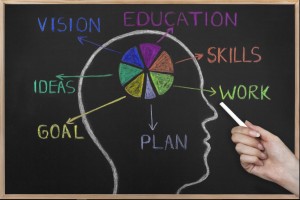 Teachers have a lot on their plate, from marking papers and producing lesson plans to scheduling field trips. There's so much to do and so little time. To make your life easier, here's simple strategies to follow that are time efficient and eases your life.
Organised and Correct Labels
This is a good way to keep all your important documents safe and labelled well in a good location, so you can find it easily. First thing to do is get rid of any unnecessary files, items that are not useful in the classroom. Usually big, busy classrooms end up getting messy, which leads to spending extra time cleaning up when that time could have been used to educate students or carry out fun tasks with them. This takes a lot of energy – it is crucial to keep everything clean and arranged in its place to able to work more efficiently through out the day. To make it easier, teach your students to put things where it belongs in its correct label box or desk.
Using Technology
This is great, to save you some time with the ease of technology tools and internet. There's so many gadgets and tools available specifically for to teachers to make their life easy with valuable apps to create their tasks through out their day weekly – lesson plans, meetings, student's data, planning school trips and being able to keep a track of their daily tasks with reminders so they don't end up forgetting! If you aren't using technology then you are missing out, with 21st century education, the system is so advanced and proficient that you'll never want to view your big chunk of folders or carry around your notepads. With efficiency and improvement of technology, you can do anything on your device in seconds.
Using Colour code or Number System
This is very helpful to separate different classes to help you remember accordingly to each class by a certain colour or number, for e.g. using different colour stickers for different classes or breaking them in categories so anyone in class 1 has orange sticker and class 2 has green sticker. You can even do that for textbooks, devices, tests and homework to make it simpler for you to recognise each class. Try out different methods and see what works best for you to keep you controlled and save more time.
Don't Mark each Assignment
This is another effective strategy to not waste time grading each single assignment that you have set for students; some teachers can be really stressed to mark each assignment but it's not necessary. This will take up too much time; you'll feel like your marking papers every day! One good way to save time is and ensure your students are taking away relevant information and completing tasks to the best of their ability by going through few assignments they have completed to make sure they are on track and setting small tasks which can be a question regarding what they learnt at the end of their lesson or mini questionnaires about related topics.
Assign Tasks to Students
This is an efficient way to set tasks for your students to make it easier for you and for them to gain extra knowledge and take responsibility of their work.  This doesn't have to be hard tasks, just quick, easy ones like writing learning objective on the board, turning of lights before leaving classroom and keeping the attendance book on your desk in morning and taking it back to reception, paper/textbook passer, line leader or door holder to keep a good, arrange classroom without disruption. This teaches good manners and duty to students that willbe helpful for them as they grow. This will make it easier for you and each week. Different student can be in control of the mini job. Your lessons will be more well-organised, and you'll be able to get through the day quick.