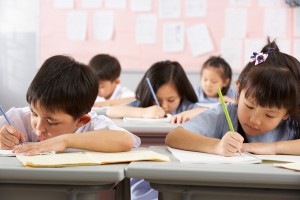 Kindergarten to Universities has reopened their campuses for students in China. But as there were recent cases in Xinjiang so they will be in lockdown and students will do online learning remotely from home.
The majority of the cities in China are doing much better than other countries; lockdown has been lifted in many cities for a while in comparison to western countries as they followed measures and guidelines very strictly so they are doing well and ensuring to work this way to get back to the 'normal life.
Despite doing well, schools will ensure virus prevention measures introduced in May and June, including checking temperatures at campus entrances, requiring students to wash their hands regularly, opening classroom windows for ventilation, and requiring students to wear masks and keeping distance.
Online teaching is also available in many schools in case there is a comeback of the virus of student's learning isn't affected. For example, recently Students in Shanghai were told to test online learning last week to make sure they could access them when needed to.