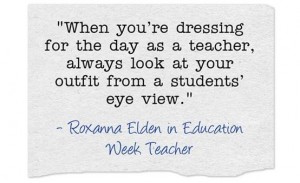 Moving abroad is an exciting time but it may also come with many questions and challenges. Â A very popular query we have here at SeekTeachers is how to dress for success as a teacher in the Middle East.
Although it may seem natural to dress as you do back in your home country it is imperative to take into account cultural and religious considerations when selecting your outfits.
Schools in the Middle East opt and prefer conservative and professional attire.
Men can plan to wear dress pants and shirts. Men should be prepared to wear to wear a tie and jacket, but this will depend on the preference of school management.
Women should plan to dress conservatively – longer skirts and long sleeved blouses will be suitable. Dress shoes and dress sandals will be appropriate for the classroom as well. Dress down Fridays is less common and left at the discretion of school management.
Important: Shoulders and Knees should be covered during working hours. Please note head scarves are not mandatory.
The following pictures are used as a guide to improving the dress sense in the Middle East. Please note head scarves are not mandatory although they are reflected in the photos.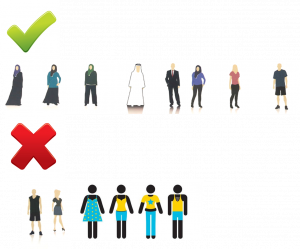 Note: Images obtained from "Reflect Your Respect campaign" and  "Sheikh Zayed mosque"